Demos
The ITS demo session provides an interactive forum for authors to present their work to conference attendees and receive feedback from the leading experts in interactive surface research. Demos provide an opportunity to interactively present research prototypes and work-in-progress as well as your best demos of the last year. Both independent demonstrations and those accompanying accepted papers and posters are welcome. At the conference, we want the ITS participants to literally get in touch with your demos. Our main goal is to provide a forum for lively discussion and hands-on experience.
Accepted Demos
Minute Madness
Shipping
If you are shipping your demo to Saarbrücken via UPS, DHL or another courier service, please take care of the following:
Use exactly the following address for your shipment:
Herrn Johannes Schöning
DFKI GmbH
Campus D3_2
Stuhlsatzenhausweg 3
D-66123 Saarbrücken
Tel.: +49 6818 5775 5008
Germany
Also, don't forget to attach the filled and signed customs form (below). This is particularly important if you are sending your package from outside of Germany - otherwise, it might get stuck in customs and arrive late.
Customs Forms
Submission
Demo proposals should be submitted through our online system in the form of a video of up to 4 minutes length. In addition, a supplemental text document is required describing your demo and the necessary spatial and technical requirements. Please use the provided template and submit a PDF accompanying your video through the conference submission system.
Submissions (video+supplemental) should NOT be anonymized.
| | |
| --- | --- |
| Deadline for submitting your demo: | September 6, 2010, 5pm pacific time (PT) |
| Notification: | Monday, September 20, 2010 |
| Camera ready versions due: | Friday, October 1, 2010 (updated) |
| Demo Reception: | Monday, November 8, 2010 |
The conference submission system is located at:
http://precisionconference.com/~tabletop/
Template:

Your submission will be reviewed with regard to its relevance, potential interest to the ITS participants, novelty as well as feasibility (in terms of space and technical requirements). Unlike with archival paper submissions, these criteria and the overall number of demo submissions need to be balanced by the demo chairs.
ITS demo videos and abstracts are a refereed but non-archival publication venue. Demo videos are not be considered to be formal publications and so should not limit use of the material in future publications about the same work. However, they will be included in the ACM Digital Library so other researchers are able to find, read, and cite them. They are similar to CHI Work-in-Progress poster abstracts.
We are looking forward to your exciting demo submissions and to get in touch with them during ACM ITS 2010 in Saarbrücken! If you have any further questions regarding your submission, don't hesitate to contact us via demos@its2010.org .
ITS Demo co-chairs
| | | |
| --- | --- | --- |
| | | |
| Raimund Dachselt | Florian Echtler | Shahram Izadi |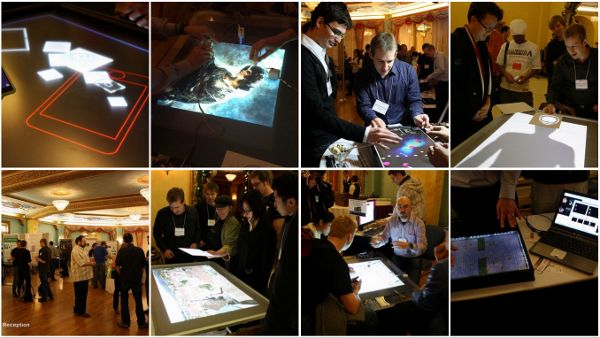 Pictures of the 2009 ITS demo session
Images courtesy of Raimund Dachselt