Posters
Posters provide an interactive forum for authors to present research prototypes and work in progress to conference attendees. Submissions should be in the form of a 2-page extended abstract describing the poster. The posters themselves will not be submitted with the abstracts - instead they should be brought to the conference by the author. The abstracts will be published in the main conference proceedings and will be included in the conference DVD. Authors of accepted poster abstracts are responsible for preparing a poster to display/demonstrate on site at the conference. Posters focus on visual presentation and discussion between the author and attendees around the poster.
Accepted Posters
Information for Accepted Posters
Minute Madness
If you are an author check here for important instructions!
Poster Design
We recommend A0 size (or smaller), and portrait orientation. A0 is approximately 84cm x 119cm, or 33" x 47".
There is no template for the posters. You are free to choose whatever layout you wish.
The poster should support the oral presentation of the work to conference attendees.
Poster content should be visually appealing. The headlines should be readable from a distance and should help attendees to get an at-a-glance overview. The fonts should be large enough to read from a distance. Ensure your poster makes sense from a distance - please don't fill it with small text, and don't simply scale up your poster abstract to fill an A0 page.
Consider using a QR code to link to further information.
Poster Installation
The interactive poster session will be on Monday evening, at the same time as the demo session, at DFKI
At least one of the poster chairs, and student volunteers, will be present to help with setting up.
For each poster a poster board and push pins will be provided.
Authors should use the poster board that is labeled with their poster number.
Posters that are not collected after the poster session will be kept until the end of the conference at 5pm on Wednesday.
Poster & Demo Session
Authors are kindly requested to be available at their poster during the Poster & Demo Session to present their work to conference attendees.
Poster Printing in Saarbruecken
You can print A0 posters at COD Büroservice, a print schop in Bleichstraße 22.
Contact Mr. Stoll, phone: 0049 - 681 - 39353 -14; email: info@cod.de.
Costs: One A0 poster cost 36,- Euro, 5 posters 30,- Euro.
Time: Posters can be printed immediately, it takes about 30 minutes for one poster, depending the current work load. To be safe, we suggest to take the poster there a day earlier. The posters can be delivered directly to DFKI, where the poster session takes place.
Submissions
The submission deadline has passed.
The submission dates are:
| | |
| --- | --- |
| Submit posters: | September 6, 2010, 5pm pacific time (PT) |
| Notification to authors: | 20th September 2010 |
| Camera ready versions due: | October 1, 2010 (updated) |
Format
Poster abstracts could be in ACM format, which is described on the papers and notes page. As in the ACM templates, each submission should include an abstract, ACM classification, general terms and keywords, although space is limited so they can be kept brief. Each submission should also include the copyright section on the bottom left of the first page. The inclusion of references is encouraged. ITS posters abstracts are a refereed but non-archival publication venue. Poster abstracts are not be considered to be formal publications and so should not limit use of the material in future publications about the same work. However, they will be included in the ACM Digital Library so other researchers are able to find, read, and cite them. They are similar to CHI Work-in-Progress poster abstracts.
Submissions should be anonymized.
The conference submission system is located at:
http://precisionconference.com/~tabletop/
For specific queries, please contact: posters@its2010.org
| | |
| --- | --- |
| | |
| Mark Ashdown | Michael Rohs |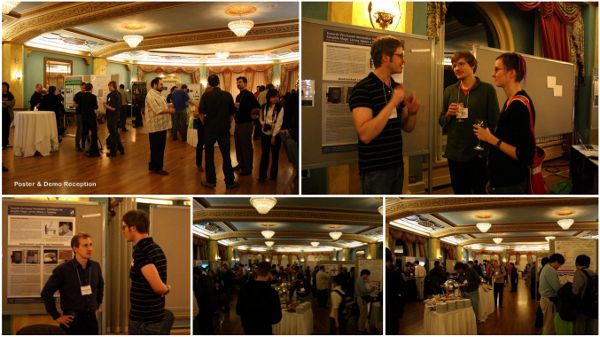 Pictures of the 2009 ITS poster session
Images courtesy of Raimund Dachselt, Nicole Sultanum